UNRWA 'provides ammunition to continue the conflict' and an 'unrealistic' hope of return Cassis said
Switzerland's new foreign minister Ignazio Cassis on Wednesday questioned the role of the United Nations refugee agency agency for Palestinians and its ability to assist its beneficiaries, casting doubt on whether the Swiss government would continue funding the organization.
The United Nations Relief and Works Agency (UNRWA), was established after the war surrounding Israel's creation in 1948, when around 700,000 Palestinians fled or were expelled.
Over the last five years, Switzerland has given UNRWA over $20 million annually and stated it planned to continue this subsidy to 2020.
Speaking to RTS radio station Cassis said it was legitimate for Swiss people to debate where public funding abroad was being sent. "This allows the Swiss people to ask themselves what our country is doing," he said, "and perhaps come to the conclusion that it is the best way forward at the moment."
His comments on Wednesday appeared to follow on from critical rhetoric made earlier this month following a trip to Jordan, when Casis said the organization was fueling "unrealistic" hope of return for Palestinians after 70 years of exodus and therefore perpetuating the Middle East conflict.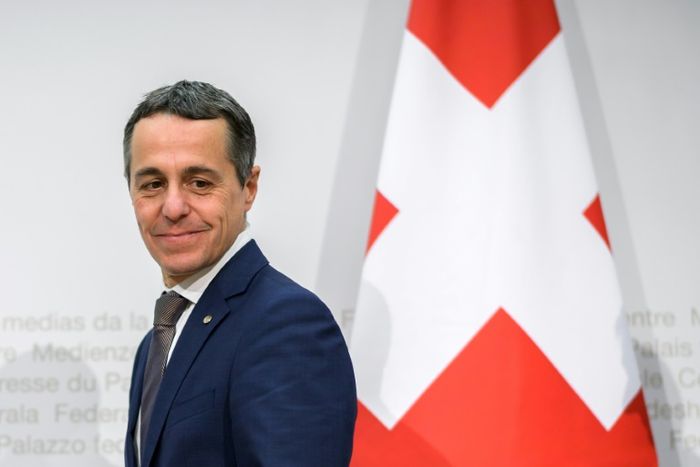 Ignazio Cassis, a 56-year-old medical doctor, has been appointed as Switzerland's new foreign minister
Fabrice COFFRINI (AFP/File)
Referring to the 5 million Palestinian refugees living in Lebanon, Jordan, Syria, the West Bank and the Gaza Strip, Casis in an interview with German-language papers owned by the Swiss NZZ group, said "for me, the question is whether UNRWA is part of the solution or part of the problem." He concluded "it is both."
The UN agency, he said, "worked as a solution for a long time, but today it has become part of the problem." Adding that, "it provides ammunition to continue the conflict. For as long as Palestinians live in refugee camps, they will want to return to their homeland."
Cassis' comments followed on from the seven-week-long "March of Return" protests that saw tens of thousands of Palestinians surge the Gaza border fence with Israel, calling for a return to what they deem as their ancestral homeland. Over 100 Palestinians have been killed by Israeli live fire since the start of demonstrations.
UNRWA is meanwhile struggling to cover a massive budget shortfall, after major donor Washington slashed its 2018 funding.
The administration of US President Donald Trump has opted to cut the $360 million offered in 2017 to a commitment of just $60 million this year, leaving UNRWA scrambling to raise nearly half a billion dollars to guarantee services until the end of the year.
Switzerland is among a group of countries who together pledged about $100 million in March to help fill the shortfall.
Palestinians take part in a protest against the US move to freeze funding for the UN agency for Palestinian refugees (UNRWA) at the Rafah refugee camp in the southern Gaza Strip on February 6, 2018.
SAID KHATIB (AFP/File)
Despite his skepticism of the role UNRWA is playing in the Middle East, Cassis warned the sudden funding cut facing the agency posed "a big risk".
"Millions of Palestinians could take to the streets," he said, cautioning that lacking funds could cause the breakdown of a "machinery that provides stability". He added, "this is a risk that Switzerland cannot afford."
Cassis said his country would continue funding UNRWA, but he also called for a heavier focus on integrating Palestinian refugees into their host communities.
Last night, more than 70 projectiles were fired from the Gaza Strip in an attack claimed by Islamic Jihad and Hamas.
Amid the multiple rounds of rocket fire, Palestinians launched boats from Gaza to protest the Israeli blockade — blamed by some as partly responsible for the dire humanitarian situation in the enclave. One boat carrying 17 Palestinians was stopped and seized by the Israeli navy.