The United Nations' Palestinian refugee agency is promoting violence against Israel and using educational materials that call for the Jewish state's destruction, according to video evidence and copies of lesson plans being taught to children before and during the coronavirus pandemic.
The U.N. Relief and Works Agency (UNRWA), which is in charge of providing education to scores of Palestinian children, has done little to root out anti-Semitism and the glorification of terrorism from its official lesson plans, although it has repeatedly pledged to do so.
The Biden administration moved almost immediately to restart U.S. funding for UNRWA despite underlying concerns about the agency's radical educational materials—fears that have been raised by U.S. lawmakers on both sides of the aisle in recent years. After aid was resumed earlier this month, UNRWA promised the Biden administration it will root out violence and anti-Semitism, though officials could not explain precisely how the agency would do this after decades of using anti-Israel materials.
A State Department spokesman told the Washington Free Beacon that UNRWA uses the Palestinian Authority's curriculum and works "to address the problematic content and provides instructions for its staff to educate students about why the content is problematic." UNRWA, the official said, "must respect neutrality, exclude anti-Semitism, and oppose violence."
"The United States is completely committed to working with UNRWA to ensure that any inappropriate material is identified and removed," the spokesman said. "Our resumption of assistance will allow us to serve as a partner to UNRWA to uphold the highest level of neutrality and commitment to tolerance in its educational materials."
The State Department spokesman did not address UNRWA's decades-long failure to better police its content despite the organization's repeated promises to do so.
Undercover videos taken at several UNRWA facilities during the past year show children participating in militant displays and calling for Israel's destruction. Teachers have also been documented over Zoom, which replaced in-classroom learning in the wake of the pandemic, using lesson plans that deem Israel illegitimate and brand Jews as "foreign settlers" who must be violently removed from the region.
The latest evidence, unearthed by the Center for Near East Policy Research, an Israeli watchdog group that has investigated UNRWA for years, was presented late last month to a bipartisan group of congressional staffers just before the Biden administration moved forward with a controversial plan to send $150 million in U.S. aid to UNRWA. Funding to the organization had been frozen since 2018 after the Trump administration determined UNRWA's anti-Semitic and anti-Israel agenda was too toxic to support.
Sen. Jim Risch (R., Idaho) and Rep. Michael McCaul (R., Texas), lead Republicans on the Senate Foreign Relations Committee and the House Foreign Affairs Committee, respectively, blasted the administration for ignoring longstanding congressional concerns by resuming "funding for UNRWA without securing any reforms from the organization," according to a joint statement from the lawmakers. They also have placed what is known as a hold on the money, essentially stopping it from being allocated to UNRWA in the short term.
The latest UNRWA curriculums are "based on Jihad, martyrdom and the 'right of return by force of arms,'" said David Bedein, the Center for Near East Policy Research's director. The U.S. government, he said, must demand the aid agency "cease paramilitary training in all UNRWA schools" and "insist that UNRWA dismiss employees affiliated with Hamas"—calls that have been ignored for years as UNRWA continues to take U.S. and European funding.
UNRWA lesson plans captured during the past year also present maps of "Palestine" that depict the fictional country as existing across all of the territory that comprises modern day Israel.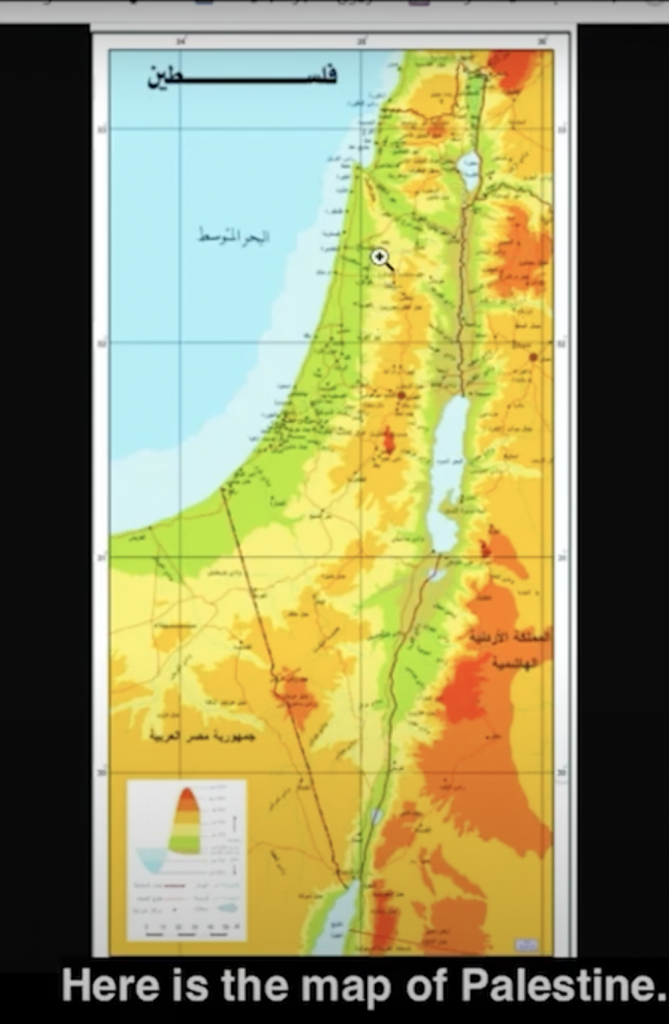 The term "Zionist occupation" is consistently used instead of "Israel" in UNRWA schoolbooks, according to Arabic language passages from a 2020 10th-grade textbook obtained by the Center for Near East Policy Research and shared with Congress and the Free Beacon. Judaism's connection to the biblical land of Israel also is whitewashed in these textbooks in order to forward the idea that Jews are interlopers in the region.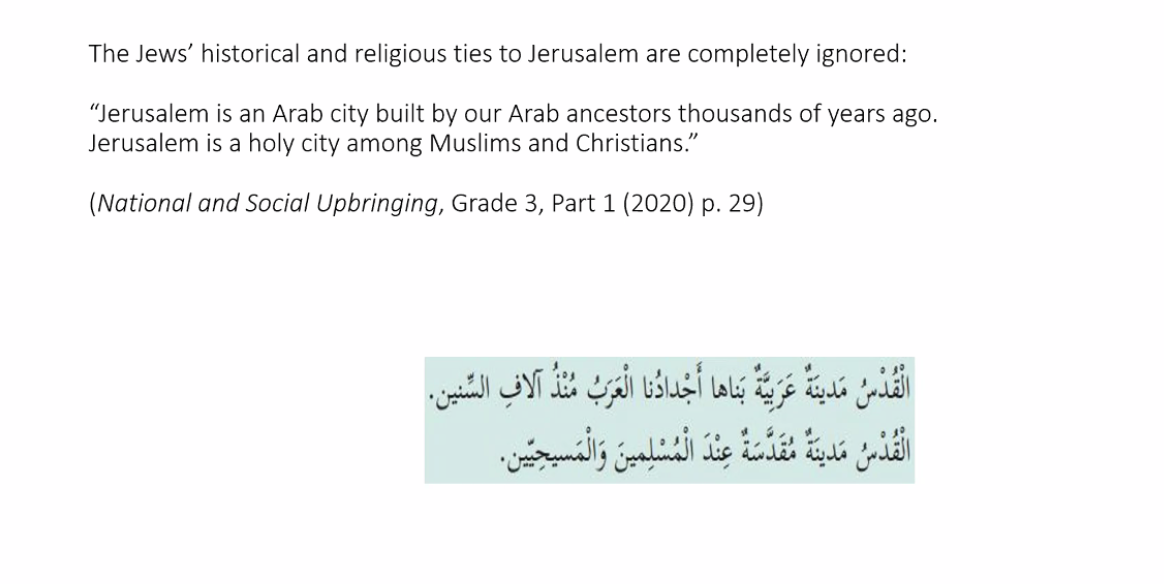 Jews are also presented as perpetrators of genocide. "The Zionists have founded their entity on terror, extermination and colonialism," states another 10th-grade textbook from 2020.
UNRWA facilities in the Gaza Strip also have been used by the Hamas terrorist group to stash weapons and missiles.
The Biden administration's decision to resume UNRWA funding without any strings attached drew a scathing and rare public rebuke from the Israeli embassy in Washington, D.C., and Jewish groups typically aligned with the Democratic White House.
"Israel is strongly opposed to the anti-Israel and anti-Semitic activity happening in UNRWA's facilities," said Gilad Erdan, Israel's ambassador to the United States. "In conversations with the U.S. State Department, I have expressed my disappointment and objection to the decision to renew UNRWA's funding without first ensuring that certain reforms, including stopping the incitement and removing anti-Semitic content from its educational curriculum, are carried out."
Pro-Israel groups from across the ideological spectrum also have begun petitioning lawmakers on Capitol Hill to force the administration to take a tougher line on UNRWA and its anti-Israel bias. They say UNRWA is fundamentally broken and only fosters hatred among Palestinian youths, according to a letter recently blasted across Capitol Hill.
"It is critical that we stand together to demand systemic reform to educational materials used by the United Nations Relief and Works Agency for Palestine Refugees in the Near East (UNRWA) before one more child is taught from textbooks riddled with hateful lessons," wrote several leading Jewish and pro-Israel groups, including Hadassah, the Anti-Defamation League, Christians United for Israel, the Zionist Organization of America, and B'nai B'rith International.
The groups are asking Congress to pressure U.N. secretary-general Antonio Guterres into forcing UNRWA to undertake significant reforms, including a total revamp of its educational materials.
UNRWA did not return a request for comment.